Noel Terry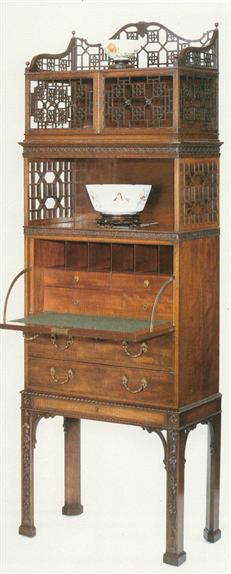 Fairfax House houses the exceptional Noel Terry Collection of English Furniture and Clocks. This collection, which was given to York Civic Trust in 1980 following Noel Terry's death, comprises some of the best examples of British cabinet-making and horology.
Noel Terry, whose great grandfather founded the famous Terry confectionary business, was born in York in 1889. In 1916 he married Kathleen Leetham, youngest daughter of Henry Ernest Leetham, an important York industrialist and the creator of an impressive collection of porcelain and jade. This link with an established collector probably had the greatest effect on a young man, keen to make his own mark on the world.
Terry began to collect in the halcyon days of the great country house sales and started in earnest in 1918 with the purchase of a bureau bookcase for the grand sum of £44. His tastes were very particular and surprisingly consistent: a dislike for gilding and anything too ornate was coupled with a demand for furniture of the highest quality and craftsmanship.
As he and Kathleen his wife set about furnishing their Arts-and-Crafts-style home, newly built in 1927, his collecting passion deepened further. With the assistance of local dealer Charles Thornton and Mallett's of London, he amassed over the course of his life time a collection that has been described by Christie's as one of the finest private collections formed in the twentieth century.
Noel Terry continued to buy one or two exceptional pieces per year right up until 1978 concentrating on those very much in the Chippendale tradition, turning what was an outstanding collection of English furniture into one that holds its own with the very best. Further horological acquisitions were also made during this period bringing his assembly of clock-making masterpieces to a majestic conclusion, a sample collection virtually unrivalled outside the great public institutions.
This key figure was a passionate lover of the city of his birth. He was one of the four founders in 1946 of York Civic Trust, and in the last ten years of his life showed an ever-increasing commitment to the preservation and enhancement of the city. It was this that led to his determination that his collection should remain as an entity for the benefit of the city of York and he therefore set about establishing a charitable trust to preserve and endow it.
In the years since Terry's bequest, the collection at Fairfax House has been added to with other chattels contemporary with the house, the aim being to recreate interiors in the style of the eighteenth century and in a manner appropriate to the house when it was inhabited by the Fairfaxes. The aim was to breathe life again into this neglected townhouse, and to complement John Carr's magnificent interiors in a fitting way.