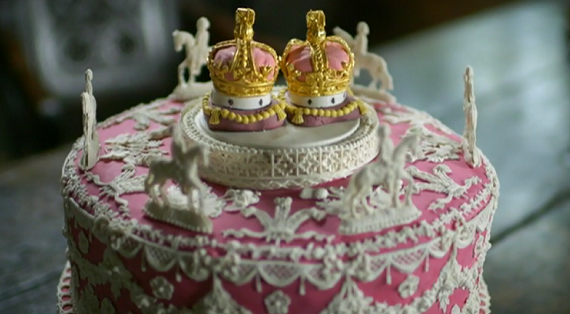 PHOTO CALL: Tuesday 18th November at 2.00pm – The Twelfth Cake will be unveiled in the dining room at Fairfax House as part of the opening of the annual keeping of Christmas display
Internationally-renowned food historian Ivan Day (familiar to many from his TV appearances) has created a magnificent Twelfth Cake which will be unveiled on Tuesday 18th November at 2pm as the centrepiece of the Christmas sideboard at Fairfax House in its annual 'Keeping of Christmas' display. Surmounted by double gilded crowns, this cake (also known as a wassail cake) is faithful to the eighteenth century, and is made using period baking methods and decorated with lavish moulded sugar work using original carved wooden moulds (from Ivan's personal collection of historic kitchen objects).
Fairfax House specialises in the eighteenth century Christmas traditions, far removed from the Victorian celebrations which followed, and many of which remain today. Each November and December, Fairfax House is decorated throughout, not with the tinsel, baubles and Christmas trees known to so many, but with a stunning display of evergreens that shows the Georgians' love of the natural world. A magnificent dining room display with beautiful silver, table decorations, elaborate parterres of sugar sand and sculptures, and examples of Georgian sweetmeats and ice-creams is a focal point for the festive decorations. It is here in the dining room that the Twelfth Cake will be put on display.
An important tradition of the eighteenth-century Christmas festivities, twelfth cakes formed an integral part of the Twelfth night revels on the Feast of Epiphany (6th January) marking the culmination of festive celebrations. It was a riotous night of feasting, revelry, dressing up as characters, and of course consuming a lavish Twelfth cake. This once famous tradition has since languished but Fairfax House will bring it alive once more with this spectacular cake by Ivan Day.
Twelfth cakes were elaborate creations, first described in the sixteenth century, but particularly popular in England between 1750 and 1850. They were often decorated with sugar or wax figures and other spectacular ornaments some were embellished with one or two crowns. During the Christmas holiday period, city confectioners would dress their windows with these cakes to show off that year's prize creations.
The Christmas installation will also fill the house throughout. A Christmas day breakfast, including a massive Yorkshire Pie, cheddar cheese carved with a cross in true northern tradition, and other eighteenth century baked goods, will be laid out in the library whilst the grand central staircase and Venetian window is a focal point for entwined evergreens. Upstairs the drawing room and saloon host a nativity display and a 'Georgian' holly Christmas-tree (completely unrecognisable compared to our present day variety), and in the kitchen hangs a Kissing Bough, a beautiful sphere of evergreens with candles and ring of apples.
To add to the festivities this year, Fairfax House will for the first time be offering hot mulled wine and mince pies through from late November to end of December. Costumed 'servants' will serve this daily between 1.00 and 3.00pm in the Georgian kitchen where the smells and taste of Christmas will come alive. The kitchen was of course the epicentre of a Georgian Christmas where an array of lavish dishes would have been produced for this festive period.
Fairfax House Director, Hannah Phillip commented: 'Fairfax House is a very special place at Christmas time, and each year there is a buzz that develops in the lead-up to the installation of the Keeping of Christmas. However, we also like to ring the changes, and the twelfth night traditions are an important part of the Christmas traditions that we want to explore. We have worked with Ivan Day over many years to explore the history of Georgian food at Fairfax House. It has to be said though that his latest creation is an absolute masterpiece and unsurpassed triumph. It is a superb way to continue our exploration of eighteenth century traditions.'
The Keeping of Christmas runs at Fairfax House between TUESDAY 18 NOVEMBER and FRIDAY 2 JANUARY.
Two Christmas Twilight Tours will be held on THURSDAY 20 & WEDNESDAY 26 NOVEMBER 7.00pm. Join Director Hannah Phillip for an intimate tour of the house and hear about the merrymaking, decorations, feasting and activities that surrounded this festival in the Georgian era, as well as the twelfth night festivities.
There are also events for children and their families on SATURDAY 20 & SUNDAY 21 DECEMBER 5.00pm with The Mummers' Play & Merriment. Christmas is a time for traditions and the 'Gorgeous Georgians' certainly knew how to make merry! Just what is in a Yorkshire Pie and why is plum porridge really a soup? Come with us around the house us to find out. Swap your family traditions over a warm cup of mulled wine or cocoa, then welcome in The Christmas Players! Under the direction of drama practitioner, Jenna Drury, children will be invited to take part in an 800 year old Christmas ritual, The Mummers' Play.
For more information about the Keeping of Christmas and special festive events and activities, visit www.fairfaxhouse.co.uk
Ends
Press Contacts: Hannah Phillip, Director Tel: 01904 655543
Email: hannahphillip@yorkcivictrust.co.uk
Notes to Editors:
Fairfax House is open daily Tuesday-Saturday from 10.00am to 4.00pm, Sundays 11.00-3.30pm and Mondays for tours at 11.00am and 2.00pm.
Admission to the exhibition is included in the entry ticket to Fairfax House.
Adults £6.00 and Concession £5.00 Children FREE
Ivan Day is an independent social historian of food culture with an international reputation for his research on British and European culinary history. As well as a scholar, broadcaster and writer, he is also a gifted professional cook and confectioner. He is noted particularly for his re-creations of meals and table settings. His work has been exhibited in many museums, including the Paul Getty Research Institute, Philadelphia Museum of Art, the Museum of London, Fairfax House, the Bowes Museum and the Rothschild Collection. He is also the author of a number of books and many papers on the history of food and has curated many major exhibitions on food history in the UK, US and Europe.
Twelfth Cakes
In the eighteenth and early nineteenth century twelfth cakes were at their apogee. Piping had not yet been introduced into England and another, entirely different mode of decoration was used. This was a technique which employed a material called gum paste, made with a mixture of gum tragacanth and powdered sugar blended into a porcelain-like paste with a little water. Gum paste ornaments were pressed out of very finely carved wooden moulds and stuck onto the cake with royal icing, gum water or isinglass. The moulds, sometimes called 'boards' or 'cards' were often carved by the confectioners themselves. Frequently the standard of carving was that of a virtuoso. Although they were used for all sorts of purposes, such as the construction of sugar pieces montées and other table decorations, many of these moulds were carved with motifs specifically intended for ornamenting twelfth cakes.
Standards of decoration were very high, a fact that should not be too surprising as this was of course Georgian Britain, the age of the Adam Brothers, Thomas Chippendale and Josiah Wedgewood, who all set very high levels of accomplishment in the decorative arts. There are plenty of illustrations of twelfth cakes in contemporary books, newspapers, confectioner's trade cards and the cover designs on packs of twelfth day cards, so we have a pretty good idea of what they looked like. They were embellished according to the prevailing aesthetic trends of the period.